Press Conference, Bill Update, and February News!
Since the beginning of the year, I've been hard at work in pushing forward several important pieces of legislation during this second year of the 133rd General Assembly.
Most recently, I held a press conference introducing the Save Women's Sports Act. The Save Women's Sports Act makes sure that women are not forced to compete against men playing on women's sports teams. The bill would designate male and female sports teams be based upon the biological sex of an individual, meaning that biological males cannot play on female teams.
This bill ensures that every little girl who works hard to make it on a podium is not robbed of her chance by a biological male competing against her in a biological female sport. We want every little girl to achieve her athletic dream here in the state of Ohio.
This is just one of many other bills I have recently introduced and I hope you scroll below to read more about other bill updates! I feel very proud to be able to represent you and your concerns at the Ohio Statehouse. Please do not hesitate to contact me with any other questions you may have and I assure you that my office will be in touch.
-Jena Powell
BILL UPDATES
The bills that we have been working on uphold our conservative values. They are pro-business and pro-family bills that increase freedom for individuals and families in our state. For more details on these bills, you can visit my website at http://www.ohiohouse.gov/jena-powell.
HB 196 – Unjust [501c(3)] Fitness Center Tax Act
-Passed Unanimously out of Ways & Means Committee
This bill corrects a tax error that started in 1992 that mistakenly added sales tax to non-profit fitness center memberships here in Ohio. This Act will sowwlve this problem by exempting 501(c)(3) fitness.center memberships from les tax, saving Ohioans $10 million.
HB 197 – Tax Code Streamlining & Correction Act
-Passed Unanimously out of Senate Committee
This tax clean-up bill corrects over 100 errors in the tax code, which will ultimately make the tax code easier for Ohioans to read and understand.
HB 258 – Expanded Apprenticeships Act
-First Hearing
This bill will expand Ohio's workforce by getting individuals into the workforce faster through expanding apprenticeship programs. HB 258 will allow individuals in certain occupations to use a certified apprenticeship program (with paid work and hands-on training) towards completing their occupational license.
HB 297 – Strong Families Tax Act
-Passed out of House Ways & Means Committee
Joint-sponsored with Rep. Tim Ginter, HB 297 will authorize a nonrefundable tax credit for a taxpayer's cash contributions to any qualifying pregnancy resource centers. This bill will help protect life's most vulnerable individuals, unborn children, and protect their right to life while providing support for mothers and families.
HB 312 – Small Business Crowdfunding Act
-First Hearing in the Senate
Entrepreneurs and small business owners have enough challenges without government invoking more roadblocks to success. HB 312 will allow Ohioans to raise up to $5 million through intrastate equity crowdfunding, which can be used to start, grow, or expand their businesses.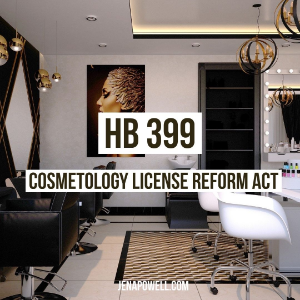 HB 399 – Cosmetology Licensing Reform Act
-Third Hearing in the House
This Act will lower the state mandated licensure hour requirements for cosmetologists, hair designers, and barbers, which will allow students to enter the workforce faster. It will authorize distance learning, and allow on-demand scheduling and working in a salon to increase flexibility and training experience for students.
HB 415 – Prosecuting Trafficking Proceeds Act
-Second Hearing in the House
This bill aims to target pimps and traffickers by making receiving the proceeds from human trafficking or prostitution a crime. Anyone who knowingly receives money, or anything of value from a prostitute that was exchanged for sexual activity will be charged with a crime. This bill will aid in the fight against human sex trafficking in the state of Ohio, assisting law enforcement in being able to charge pimps and traffickers and connect them with illegal activity.
HB 432 – License Reciprocity Act
-First Hearing in the House
Part of solving the workforce shortage in Ohio is for us to allow reciprocity in Ohio for those who hold out-of-state occupational licenses. We want people to come to Ohio and become a part of our communities. HB 432 will make it easier for individuals to move to and work in Ohio, recognizing that workers don't lose their skills when they cross a state border.
HB 446 – Stop Elder Abuse License Plate
This bill will create the "Stop Elder Abuse" license plate. Too many of our elderly loved ones are easily abused and mistreated, and it is critical that we bring awareness to this issue.
HR 180 – Declaring Pornography a Public Health Crisis
-Fourth Hearing in the House
This resolution acknowledges that Ohio is the fourth worst state in the nation for reports of human trafficking. This resolution also recognizes that sex trafficking, prostitution, and pornography are interrelated. Due to this, our resolution declares pornography a public health crisis that must be addressed through education, prevention, research, and policy changes at the community level to confront this crisis.
HB 486 – In Vitro Fertilization (IVF) Fraud Act
Current law does not provide any legal recourse for women and their children who find out years later that a doctor used his own sperm to imprenate a woman without her consent. This bill would make it a third degree felony for a licensed health care professional to purposely use human reproductive material from a donor without the patient's consent.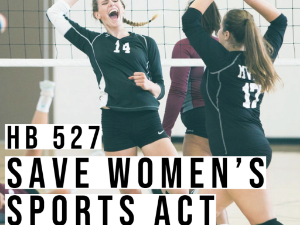 HB 527 – Save Women's Sports Act
The legislation will ensure that women will not have to compete against men playing on women's sports teams. It would make male and female sports to be based on the biological sex of an individual.
Where was Jena in January and February?
January 15 ­– Attended Miami County Police Chiefs Meeting and Covington Noon Optimists Meeting
January 17 – Toured the Troy Goodwill and met with Riverside Miami County Board of Developmental Disabilities
January 27 – First Community Conversations with Rep. Jena Powell was held in Troy
January 29 – Tippecanoe Boys Soccer Team is recognized at the Statehouse for their State Championship Title
January 30 – Sponsor Testimony on H.B. 415, Prosecuting Trafficking Proceeds Act
February 10 – Guest on WRFD 880 AM discussing Prosecuting Trafficking Proceeds Act
February 13 – Cedarville University College Republicans visit the Statehouse
February 13 – Guest on "The State of Business with the Ohio Society of CPAs"
February 14 – Met with Southwest Ohio Center Right group
February 24 – Attends Elder Abuse Commission Meeting
February 25 – H.B. 197, Tax Code Streamlining and Corrections Act, passes unanimously in the Ohio Senate Ways and Means Committee
February 25 ­– Save Women's Sports Act Press Conference
Seeking "HOMETOWN HERO" Submissions!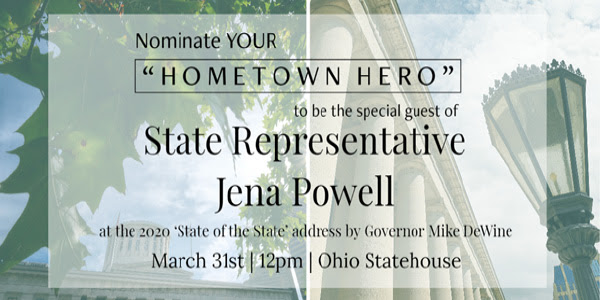 Once again, thank you for taking the time to read through this newsletter. I hope it has served as a helpful update to you regarding what we are doing in Columbus and throughout the district.

As always, don't hesitate to reach out to our office with any questions at 614-466-8114 or Rep80@ohiohouse.gov.

-Jena Powell
http://jenapowell.com/wp-content/uploads/2018/02/ejp-logo-web-1x-color.png
0
0
Jena Powell
http://jenapowell.com/wp-content/uploads/2018/02/ejp-logo-web-1x-color.png
Jena Powell
2020-03-05 07:57:51
2020-03-05 07:57:51
Press Conference, Bill Update, and February News!